Sandra Hortin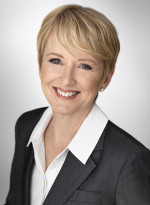 Residential Sales Representative
Sandra Hortin is the residential sales representative specialist for Elders Real Estate Narrogin and is currently ranked in Elders Top 5 residential sellers in WA.
Sandra made the move into Real Estate sales in 2015 and is now best known for her honed listening and interpersonal skills which enable her well to work with the multiple parties involved in any real estate transaction. These attributes are some of the reasons Sandra and has enjoyed a constant stream of sales success since her career in real estate began.
Sandra has around 30 property listings on her hands at any one time so her background as a senior administrator and manager has equipped her well to manage the fine attention to detail required to carefully attend to the needs of multiple clients and properties.
Selling residential houses, vacant land and now commercial sites, Sandra has formed a dynamic real estate team with her husband Jeff Douglas who is the branch's licenced Real Estate Agent and currently ranked Elders Number 1 Rural Seller in WA.
Living in Narrogin and based out of the Narrogin Branch, Sandra services the towns of Williams, Narrogin, Wagin, Wickepin, Cuballing, Popanyinning and Pingelly and looks forward to working with clients to achieve their real estate goals.
Read public client reviews on Sandra at Rate My Agent
Notable Awards
Elders Real Estate WA 2017 - No.5 Residential Salesperson
08 9881 9881
08 9881 9800
0487 316 906