Jeff Douglas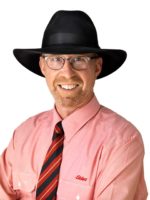 Licensed Real Estate Agent & Rural Specialist
Jeff Douglas is amongst Elders best of the best. Currently ranked as Elders No.1 Rural Salesperson in the state and named the last three years running in the Elders "Elite" Top sellers across WA, Jeff has emerged as the preferred Real Estate agent in the Upper Great Southern.
Jeff's real estate career spans almost 30 years. His rural roots began in Albany where he grew up on the family farm moving onto roles in the agricultural industry before transitioning into real estate in 1990.
Well known for his eye for detail in the contract process Jeff's standout area of expertise lies in careful construction of contract conditions that address and mitigate potential areas of conflict that can arise between parties during the sale process and for years to come post sale.

Jeff is a Licenced Auctioneer and in addition to general property sales has a wealth of experience in leasing agreements. Based at the Narrogin Elders Branch, Jeff travels throughout and services the geographical area from Darkan in the west, to Karlgarin in the east, Woodanilling in the south and Brookton in the north.

Considered one of the most progressive in his field, Jeff embraces the latest technology and tools available for selling and ensures he is abreast of industry standards with regular best practice training and industry memberships.
Jeff is the current triennial certificate holder and licenced real estate agent and branch manager for Elders Real Estate Narrogin. 
Notable Awards
Elders Real Estate WA 2017 - No.1  Rural Salesperson
Elders Real Estate WA 2017, 2016, 2015 – Elite "Top 5 WA Sellers"
Elders Real Estate WA 2016 - No. 2 Rural Salesperson
Elders Real Estate WA 2015 - No. 4 Rural Salesperson
Elders Real Estate WA 2014 - Rising Star
08 9881 9881
08 9881 9800
0427425689